Cellisys from the trustworthy Daewoong Pharmaceuticals
Exclusive retailer in the US
What is EGF?
EGF, an acronym for epidermal growth factor, refers to epithelium tissue regeneration.
EGF is an important substance that stimulates cellular proliferation, differentiation, and vitality
as well as synthesis of collagen and elastin to regenerate skin.
DW EGF
DW EGF is the world's only EGF that has been produced for pharmaceutical purposes.
THE FIRST
The world's first approved pharmaceutical EGF
THE ONLY
The only registered substance by WHO (World Health Organization)
THE ORIGINAL
An original internationally standardized substanc
Highly-active
20 times more active compared to other brands
High-purity
Patented Genetic Recombination Protein Synthesis Technology
Highly-concentrated
10 times more EGF content compared to other brands
E.G.F Intense Mask
Experience the innovation leading to firm and radiant skin with the highly concentrated Hydrogel Mask, now upgraded with 25 times more EGF concentration
Premium mask pack with the highest EGF content among all masks in the nation
Extraordinary natural gel type mask that is skin-friendly as opposed to a synthetic mask sheet.
More than 25% of the mask includes moisturizing ingredients to provide an intense hydrating mask.
Highly concentrated hydro gel mask that reacts to skin temperature
Main Ingredient
Chamomile
- Removal of skin toxins and waste
- Prevents skin damage
Tea Tree
- Anti-bacterial and disinfecting effects
- Helps treat acne
Allantoin
- Skin soothing effects
- Alleviates skin inflammation
Hydrolyzed Collagen
- Enhances skin elasticity
- Prevents aging and moisturizes
Hyaluronic Acid
- Prevents aging
- Maintains moisture levels
Highly concentrated nutrients delivered to the deepest skin layer with this 'hydrogel mask that reacts to skin temperature'
Method of Use for E.G.F Intense Mask
1. Open the pouch and remove the transparent film that divides the upper and lower halves of the mask. Spread the mask sheets open.
2. Remove the upper mask from the transparent film and adhere onto your face. Align the mask with your eyes and place on your face smoothly.
3. Place the lower mask onto face by removing the transparent film as done with the upper mask. Gently tap mask with fingers to adhere properly onto face.
4. After 15-20 minutes, remove the mask and gently tap the remaining moisture with your fingers to absorb the nutrients into skin.
Helpful Tip! Unlike synthetic sheet masks that only give a temporary effect, EGF Intense Mask reacts to body temperature. The ingredients in the mask is slowly absorbed and permeated into your skin, resulting long-lasting effects from the active ingredients.
Everything about DW E.G.F!
All Cellisys products consist of highly-concentrated DW EGF developed by Daewoong Pharmaceuticals.
Find radiant beauty with Cellisys! A brand that can be trusted!
Special Advantage of DW EGF
DW EGF is the world's only EGF registered by WHO that obtained the nonproprietary name, Nepidermin.
Daewoong Pharmaceutical operates the only consigned quality testing center for cosmetics that contain EGF.
DW EGF is the world's first registered EGF cosmetic ingredient in the International Cosmetic Ingredient Dictionary and Handbook.
DW EGF is the only certified EGF ingredient for wrinkle improvement cosmetics certified by KFDA.
The only EGF with 34 patents in the world (23 countries) is DW EGF.
Clinical Effects of DW EGF
Many customers have experienced high satisfaction by noticing enhanced firmness, increased elasticity and improvement in deep and fine line wrinkles.
Patented DW EGF - EGF
10ppm is the largest amount contained in a cosmetic within the nation
Strengthens cell membranes to enhance skin.
Moisturized 81.80%
Increased Elasticity 72.70%
Wrinkle Improvement 81.80%
[Clinical Test Result by Clinical Cosmetic Expert Derma Pro Research Center]
Period: 09.04.2007 ~ 11.30.2007, Number of Subjects: 11
Wrinkle Improvement Benefits
Dermal Improvement Benefits
Effects of DW EGF
EGF stimulates the synthesis of collagen and fibtronetin to regenerate skin.
Stop the aging clock with EGF
Decreased levels of EGF concentration in the body accelerate skin aging as it slows down regeneration.
Before/After Use
EGF stimulates the skin regeneration process by activating skin cells.


Differentiation of cell activation can be seen with application of EGF. (Purplish colored cell on fundus of membrane)
※ The test was carried out by the Department of Plastic and Cosmetic Surgery at Seoul Asan Hospital with pig skin, which is known to be similar to human skin.

- By permeating into deep skin tissue, EGF regenerates and stimulates skin tissues to make skin firmer
Concentration Essence
Wrinkle Improvement and Enhance Elasticity
Activator
Increase Skin Vitality and Minimize Wrinkles
Cream
Increase Elasticity and Provide Nourishment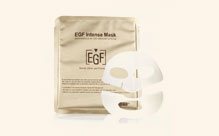 EGF Intense Mask
Use once a week