UMEKEN LIPOPO
with LPS to help strengthen the macrophage network
[Macrophage]
is an important immune cell that fights sickness by helping the body to remove
harmful elements, such as bacteria, viruses, oxidized wastes, and dead cells in the body.
Macrophages are vital to the immune system!
Concerned
about cancer
Taking prescription medication
Concerned about diabetes
Experiencing weak immune system
Concerned about Alzheimer's
Worried about hyperlipidemia
Suffering with atopic dermatitis
Experiencing gastric ulcers
1. What is macrophage?
Macrophages are immune cells that play a role in cleansing the body by eliminating not only pathogens, but also unnecessary waste products. It literally means to "eat a lot". The cells responsible for 'innate immunity' are cells that engulf pathogens. This includes cells such
as natural killer (NK) cells, but the most
important among these is the macrophage.
Macrophages are also called phagocytes
because they move around the body like an
amoeba and engulf and eradicate foreign substances. Innate immunity is a type of immunity that is present naturally at the time of birth, and is present not only in humans but in all living things on Earth.
Macrophage is an important immune cell that fights sickness by helping the body to remove harmful elements, such as bacteria, viruses, oxidized wastes, and dead cells in the body.
2. Do macrophages clean the waste products inside our body?
Macrophages absorb foreign substances, like pathogens, into their own bodies and break them down into enzymes. The absorbed foreign substances do not stay in the invading pathogens. Macrophages engulf and digest microorganisms like dust, as well as substances that die within the human body like dead cells, mutated proteins, oxidized cholesterol, and mutated cells (which include cancer cells).
Macrophages clean up all the unnecessary wastes within our body. If the function of macrophages is significantly reduced, our body will be overflowing with waste, which can cause many diseases. Therefore, we can understand the important role of macrophages in protecting our health.
3. What is LPS (Lipopolysaccharide)?
Found in various vegetables, fruits, and grains that grow on the ground, LPS block toxic substances from entering our cells and activate the macrophages. Macrophages help prevent diseases, cleanse our body, and maintain our innate immunity by engulfing bacteria, viruses, oxidants, denatured proteins, and dead cells.
4. What is the relationship between LPS and macrophages?
LPS activates macrophages to protect our bodies against bacteria and diseases. LPS allows macrophages to become physiologically active. Known as the 'priming state' of macrophages, the body is in a prepared state to effectively remove foreign substances. Although we may think that free radicals created by activated macrophages may adversely affect our body, the priming process is a silent activation.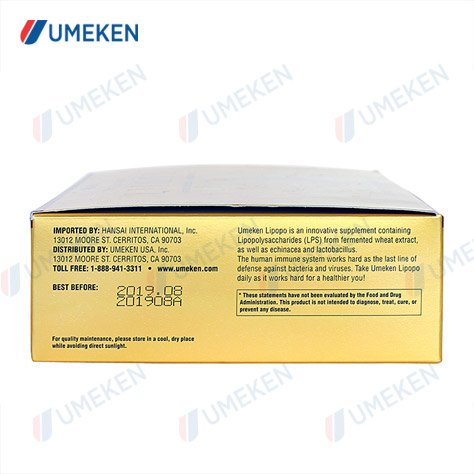 90g (90 packets) 3 month supply / Take 1 packet per day.
* These statements have not been evaluated by the Food and Drug Administration.
This product is not intended to diagnose, treat, cure or prevent any disease.
"The content of consumer reviews is the sole responsibility of the reviewing consumer. Umeken, U.S.A. does not write consumer reviews or compensate consumers who provide them, and those reviews do not necessarily represent the views of Umeken, U.S.A. No consumer reviews have been evaluated by the Food and Drug Administration, and this product is not intended to diagnose, treat, cure or prevent any disease."
No posts found